Public Notice Board Meeting Date Change - Moved to Monday, November 7th @ 7:00pm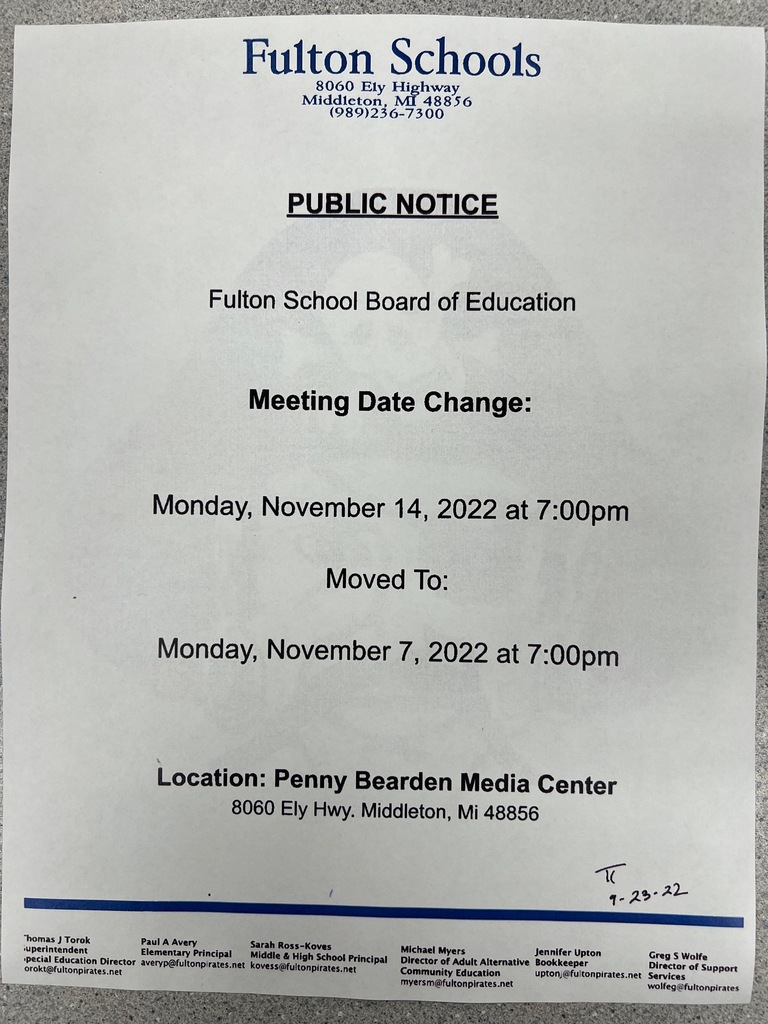 JV FB will be played Thursday night at 6 PM.
JV FB game for tonight has been postponed. Make up date TBD.
JV FB game most likely delayed to start. Stay tuned. Hoping to start by 6:30 if delayed.

7th & 8th grade volleyball game against Ashley will be combined starting at 4:30 tonight.

Sanchin-Ryu Martial Arts - Mondays, 9/26 – 11/14 Perrinton Community Center, 305 W. Elba Street, Perrinton Karate for Kids (Grades K-8, 6:30-7:30pm, $30) Family Class (Ages 5+, 6:30-7:30pm, $60 per family) Our students will be trained with proven, age-appropriate techniques that are necessary for children and adults to protect themselves from attackers. This program is set in a fun, yet structured, non-competitive environment which will give your family a positive outlook on learning a martial art. This program also allows children and parents to learn together. Teen and Adult Class (Ages 14+, 7:30-8:30pm, $30) Equip yourself with the confidence and abilities you need to stay safe! Students receive specialized training on how to dealt with and get out of a multitude of attack scenarios, all in a fun, pressure-free environment! We show you how to use the whole body for power, making the most of your size and strength - regardless of athletic ability. Middle School students are welcome at either 6:30 or 7:30 pm, but they might prefer the 7:30 class. Instructed by Sensei Ben Kalush, 4th Degree Black Belt. Register with Mr. Kalush at your first class. Fees cover all eight weeks. Website: sanchinryu.com

The August issue of the Fulton Flier inadvertently listed Thursday, September 22nd as a half day. This is an error. This Thursday the 22nd will be a full day of school. Sorry for any confusion.
What's going on in athletics: This past week our teams did phenomenal. MS VB won both matches, JV and V won their match and V VB took 2nd at their tournament, CC had a great days at Chesaning and Evart with many athletes running their season's best and placing in the top 10, and V FB won Friday night. Here is a look at this week of events: Monday - MS VB home vs Ashley and F VB home vs Alma Tuesday - JV FB home vs Montabella and JV and V VB home vs Coleman Wednesday - MS FB home vs St. Pats, MS VB @ Breckenridge, and CC @ Merrill Friday - V FB @ Montabella Saturday - F VB @ Ithaca Invite We are still in need of many volunteers for our home events. Here is the link to sign-up:
https://www.signupgenius.com/index.cfm?go=c.SignUpSearch
. Please help us make our events possible! Go Pirates!
Our V VB team took 2nd out of 8 teams at the Montabella Invite today! Great job ladies! Keep up the great work! They have their first home match of the season Tuesday night against Coleman. Come out to support our Lady Pirates!#PiratePride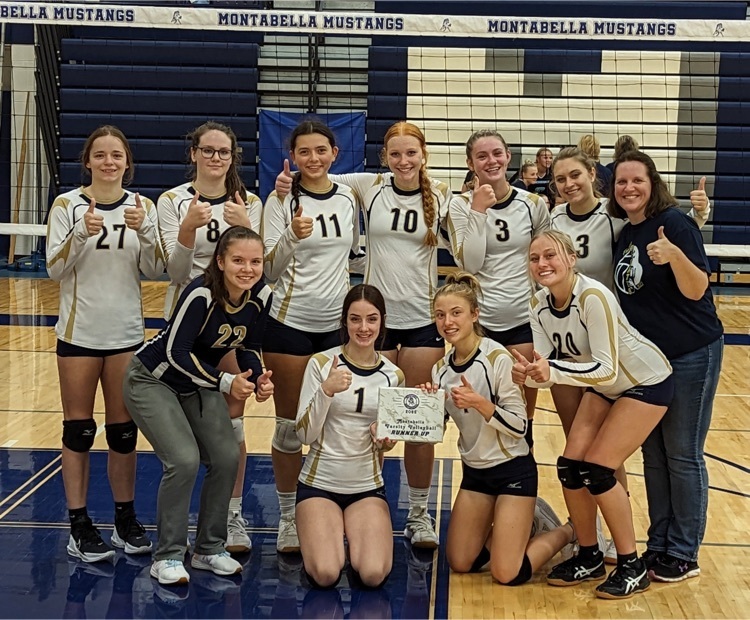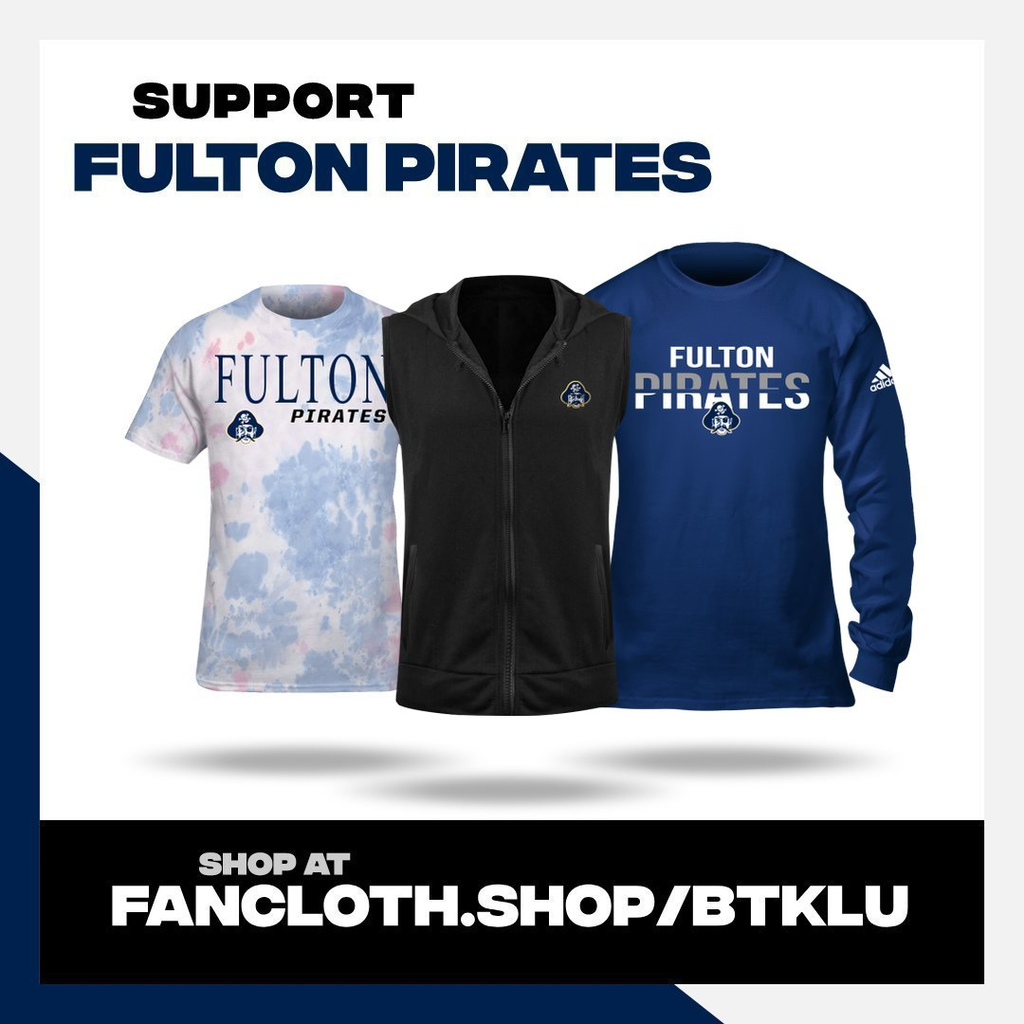 Open Gym Information for All High Students - The gym will be open for any boy or girl basketball players every Tuesday & Thursday from 7-8am starting September 20th.
We are in need of volunteer workers for our home events next week: Monday - MS VB and F VB Tuesday - JV/V VB and JV FB Wednesday - MS FB Please consider volunteering your time to help our student-athletes. Here is the link:
https://www.signupgenius.com/index.cfm?go=c.SignUpSearch
. Thank you!

The Vestaburg Schools community suffered a tragic loss of a student in a house fire earlier this week. On Friday night, our football team will travel there for a game and during the game Mr. Trefil will be taking donations to support the family and the Vestaburg community. If you can not make the game but would like to make a donation, please stop at the MS/HS by 3:00pm on Friday.
Unfortunately, the JV FB game scheduled for Tuesday night has been canceled.
Congratulations to our JV VB team on their 1st place finish in the CC-C JV Invite! They won 9/10 sets on the day! Great day to be a Pirate!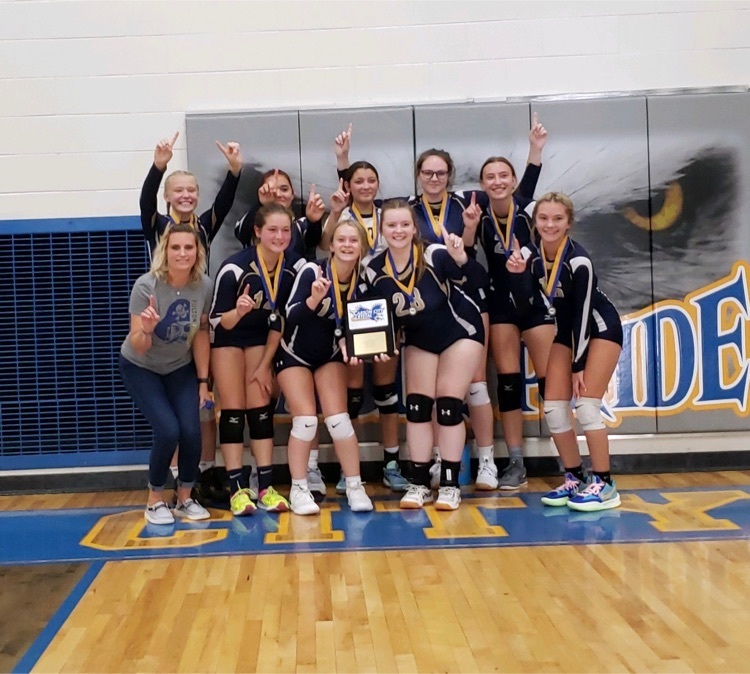 Pirates trail 30-6 against the Vandals after 3

Here is a great video from the School Nutrition Association about the change in school meals this year. Please take a moment to watch.
https://vimeo.com/742305638
What a week for Fulton Athletics! JV VB, JV FB, V VB, and V FB all win this week. JV and V VB didn't lose a set all week!! It is a great time to be a Pirate!