Athletics this week: Monday - HS BB home vs St Pats - JV 5:30 PM - we need volunteers for tickets and concessions!! MS BB home vs Vestaburg - 7th grade 5 PM - need a ticket worker for the 7th grade! Wednesday - BB and GB @ Ashley - Varsity only - girls 5:30 PM MS BB home vs CC-C - 8th grade 4:30 PM Thursday - HS GB @ Breckenridge - JV 5:30 PM Friday - HS BB home vs Breckenridge - JV 5:30 PM Stay tuned with changes to the schedule this week with the winter storm coming in. If you can volunteer for HS BB tonight, please email
trefilb@fultonpirates.net
ASAP! Go Pirates!


Due to current weather conditions, Fulton Schools will be closed tomorrow, Friday, February 17th. FAST will be open.

Good evening Fulton elementary parents. Please check your student's folder or backpack for an exciting family fun opportunity. Fulton elementary is planning to host Family Game Night, through our Title 1 program. We are planning game night for March 7th. We would love to have everyone join us for a night of fun educational games, prizes and pizza! If your elementary family is interested in joining us for Family Game Night please complete the flyer that was sent home with your student as soon as possible, and return it to school. Can't wait to see you there!

The girls and boys game @ Ashley has been rescheduled for Wednesday 2/22. Girls will begin at 5:30 PM

Isabella Citizens for Health continues to offer mental and behavioral health services throughout the year on our campus. Ms. Tara Pummell is our main school-based outpatient therapist. This is her second year as a Fulton Pirate. Thank you Ms. Pummell for all you continue to do to support our students.
https://www.fultonpirates.net/article/847849
Contact your child's school office for more information.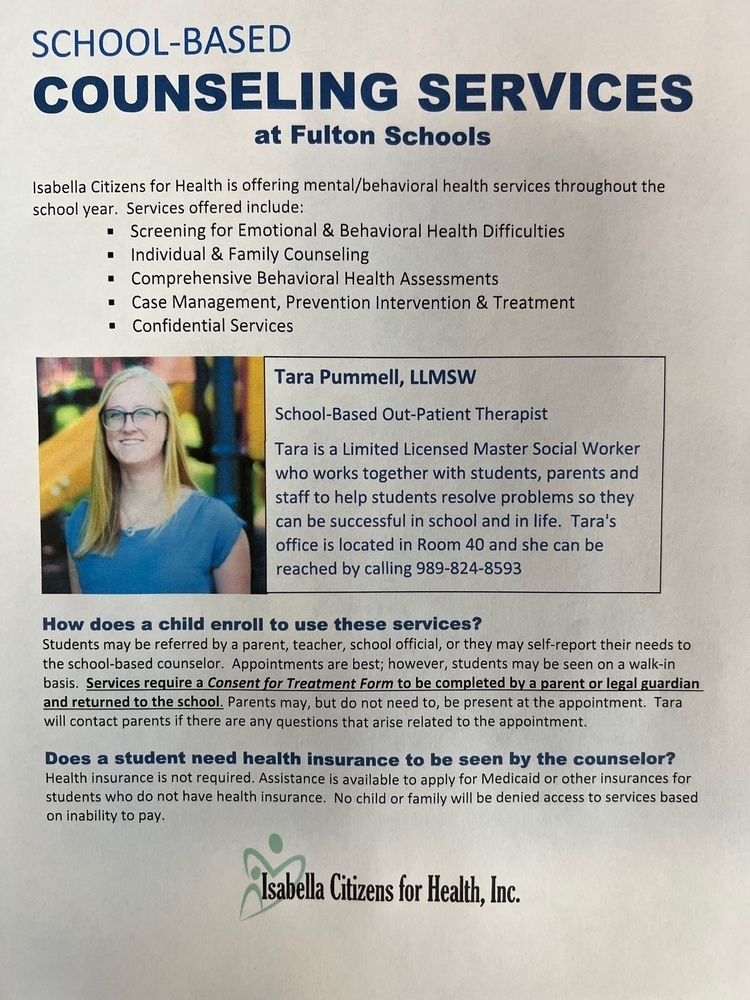 Tonight's girls and boys basketball games @ Ashley are canceled! Make up date TBD. All practices after school are canceled as well.

Tonight's Alma GI-TEC Open House and Technical Honor's Induction has been canceled due to the weather. it will be rescheduled.

HINDSight Scholarship Foundation - The scholarship will be awarded to a chosen student from from Addy's graduating class of 2028, then every year afterward. We haven't finalized the criteria for eligibility yet, but we have time to decide specific qualifications before the scholarship is awarded. In the meantime we will be raising funds for the HINDSight scholarship. We hope you join us in honoring Addy and our mission to raise mental health awareness. It's human nature to look back and pick out moments in our lives and ache for a chance to redo it. No amount of "HINDSight," will bring Addy back home. Our mission is to encourage students to gain insight and foresight into supporting their emotional/ mental health throughout their lives. Here is the information for donations. Checks should be made out to the Gratiot County Community Foundation. State in the memo line: Addy Hinds/ HINDSight Memorial Funds. Mail checks to: Gratiot County Community Foundation 168 E. Center St. P.O. Box 248 Ithaca, MI 48847 Donations can be made online at
www.gratiotfoundation.org
by clicking the "Donate" button. On the donation website, be sure to indicate the donation is for the Addy Hinds/ HINDSight Memorial Funds. T-shirt fundraiser online ordering -
https://form.jotform.com/230445364943155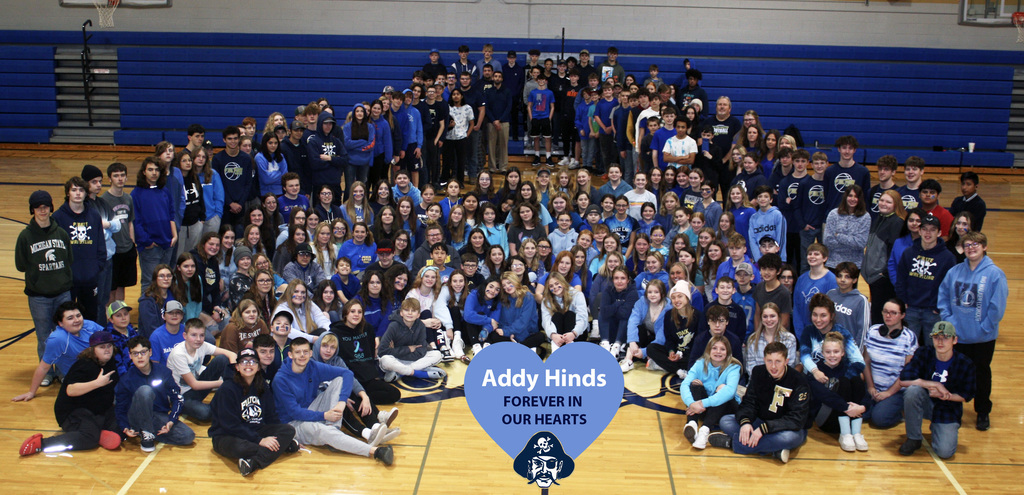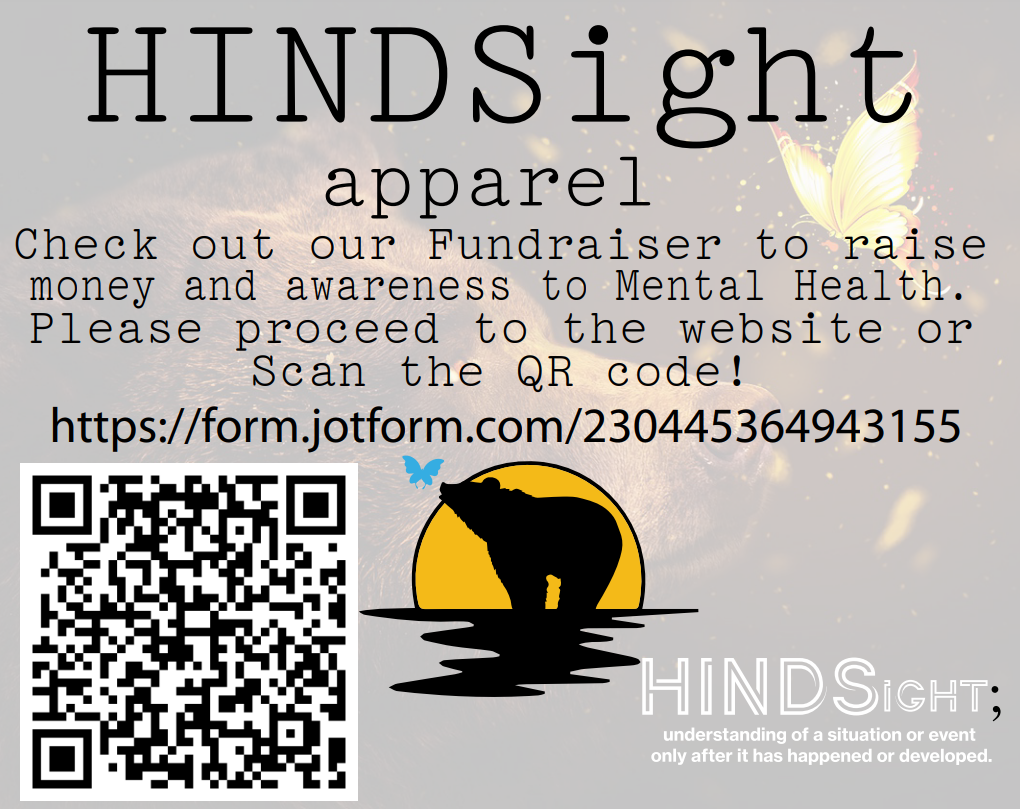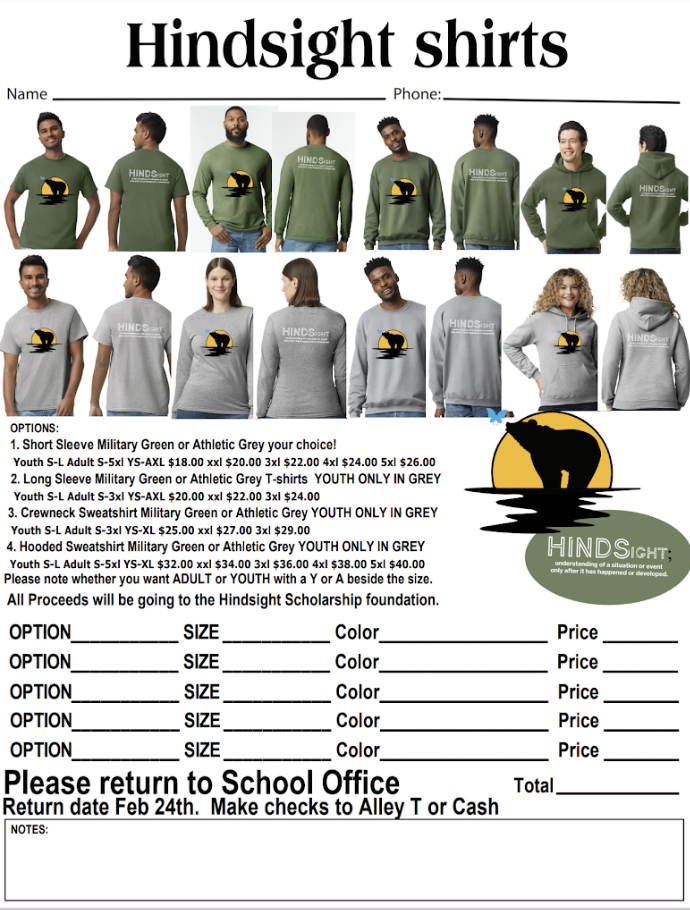 Good morning Fulton School. Please be aware that Bus route 6 is approximately 20 minutes behind schedule this morning. Thanks for your patience and understanding.

Buddy's Pals Fulton Schools has partnered with Buddy's Pals to bring an educational support dog into our schools. Buddy's Pals is a fully licensed and insured non-profit organization that trains dog/handler teams to work in schools and around students. The dog/handler teams go through an intensive training process. Currently, Buddy's Pals is working with many schools in the greater Lansing area. Their dog/handler teams have even been on scene at MSU to provide support after the tragic events that occurred on their campus. Educational support dogs are quickly gaining popularity throughout the country. And research has shown that they help ease student anxiety, promote positive social interactions, assist with the development of problem-solving skills, increase self-esteem, and provide emotional support. The dogs may even be able to help staff identify students who might be experiencing emotional distress. Our dog is Bo. Bo is a 5 year old golden retriever. Bo's handler is Mrs. Reynolds. This is also a great feature of Buddy's Pals they typically try to pair local community members with schools. We anticipate that this program will likely start slowly and expand over time as need and capacity increase. Students and staff will likely start seeing Bo sometime next week. We understand that some students/staff may have allergies or anxiety related to dogs and we certainly want to be sensitive to that. So if your child has any of these issues please contact your child's building principal to discuss those issues. Also, if you would like to learn more about the Buddy's Pals program or would like to assist, please contact Mr. Torok.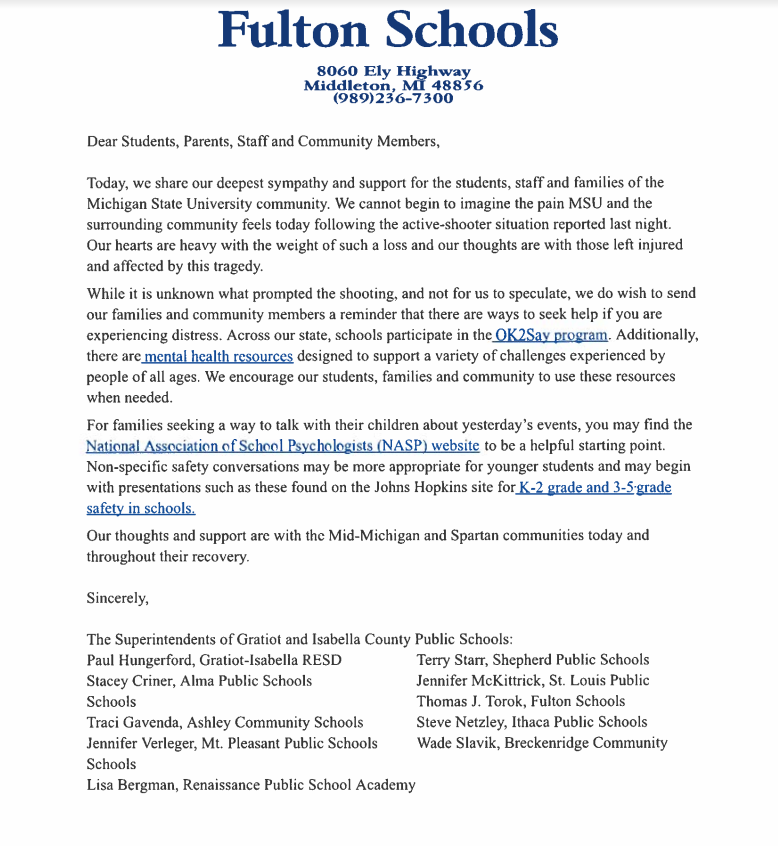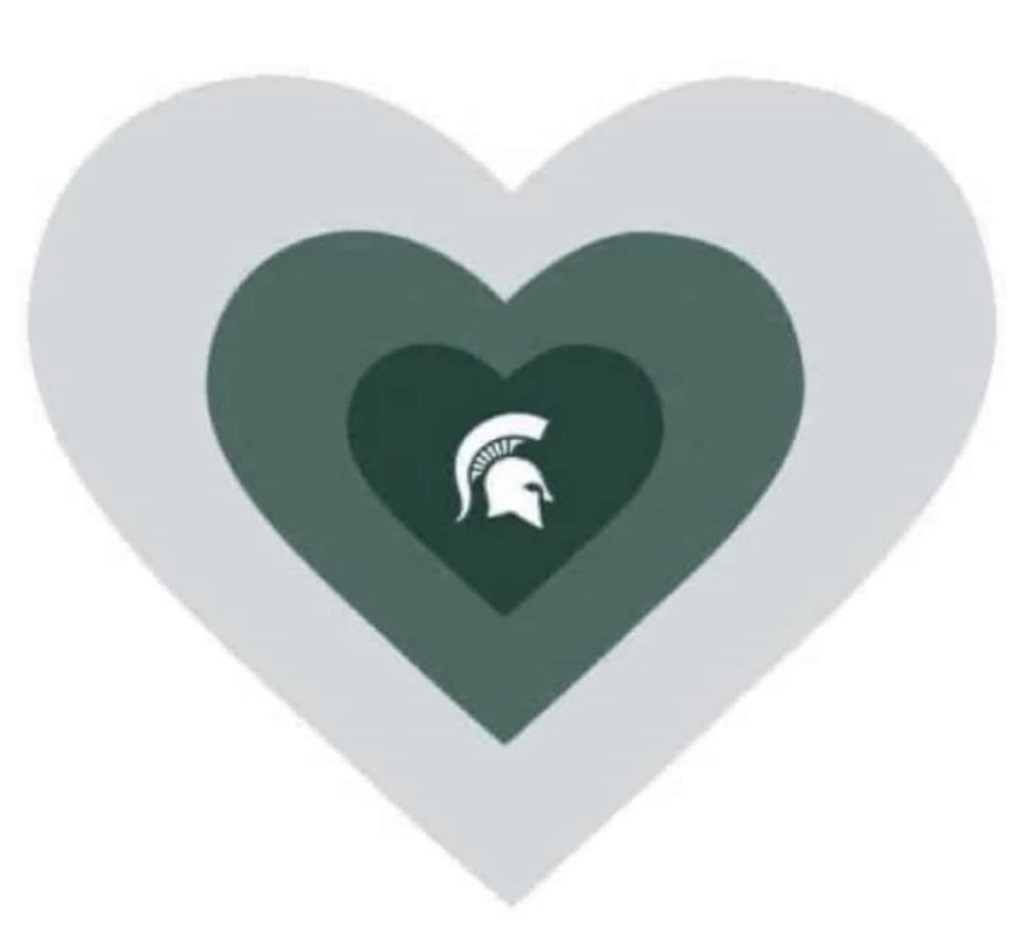 Athletics this week: Monday - HS BB @ Montabella - JV 5:30 PM MS BB @ St Charles - 5 PM Tuesday - HS GB @ Vestaburg - 5:30 PM Wednesday - HS BB home vs Vestaburg - 5:30 PM MS BB @ Montabella - 5 PM Thursday - V GB and V BB @ Ashley - Girl's 5:30 PM Saturday - Individual Wrestling Regionals @ Ithaca Congratulations to Austin Lamkin, Lincoln Beltnick, and Trevor Brown for making the Wrestling Regionals! We need ticket and concession stand workers for Wednesday night! If you can volunteer, please sign up at signupgenius.com and search
fultonathleticboosters@hotmail.com
. Go Pirates!

Our boys are taking on St. Charles at home. 🏀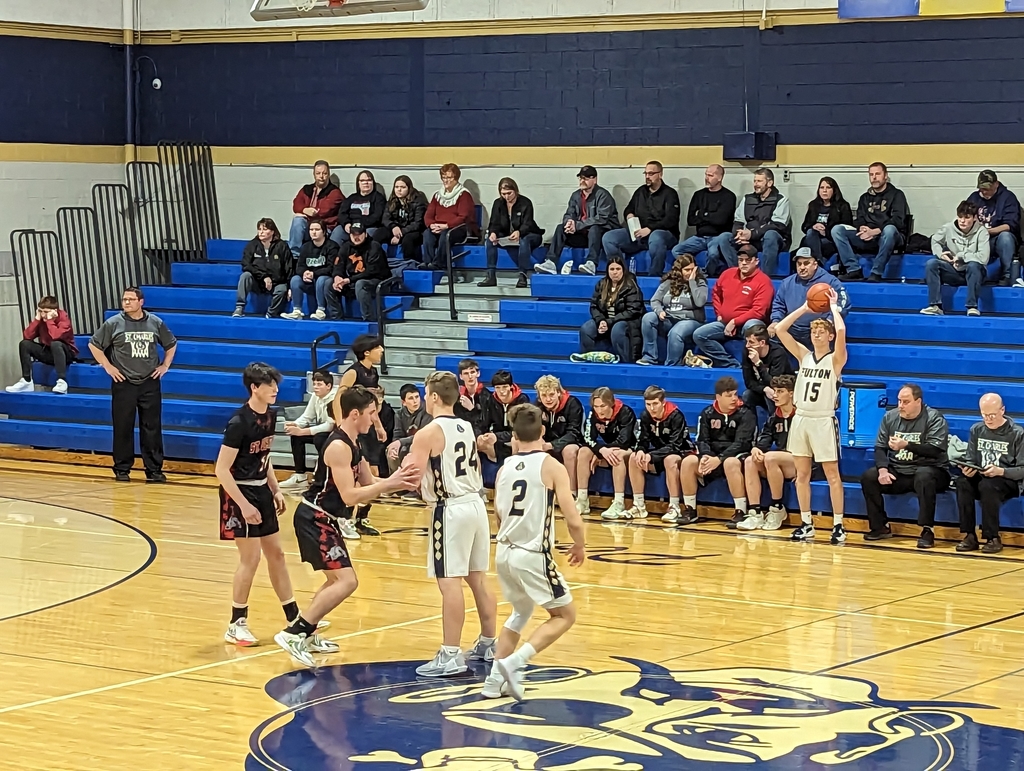 School Counselors Celebrate During National School Counseling Week, Feb. 6–10, 2023 National School Counseling Week 2023, "School Counselors: Helping Students Dream Big," sponsored by the American School Counselor Association (ASCA), will be celebrated from Feb. 6–10, 2023, to focus public attention on the unique contribution of school counselors within U.S. school systems and how students are different as a result of what school counselors do. National School Counseling Week highlights the tremendous impact school counselors can have in helping students achieve school success and plan for a career. We would like to recognize and thank Mrs. Heinz and Mr. Woodman for their continued work for and with our students. They make Fulton Schools a better place!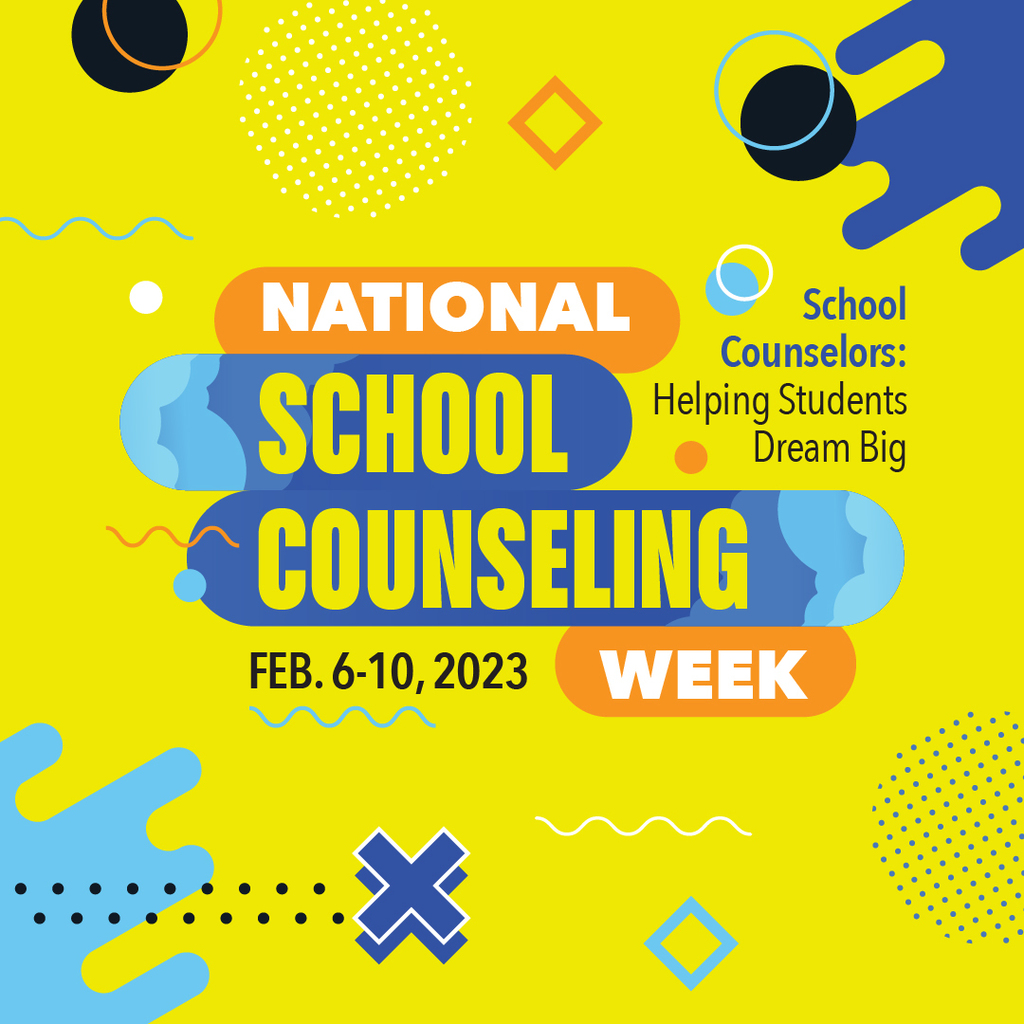 Reminder if you plan to attend the Team Wrestling District tonight, you will have to purchase a ticket online at the GoFan website or app. If you can't make it, the event will be live-streamed on the NFHS network. The event will take place in the HS Gym.

Athletics this week: Monday - MS BB @ CC-C - 7th grade 4:30 PM Tuesday - JV BB, V GB, V BB @ Merrill - JV 4:30 PM Wednesday - MS BB @ Vestaburg - 8th grade 5 PM WR hosting districts - 6 PM - remember all tickets must be purchased through the GoFan website or app Thursday - GB @ St Charles - 5:30 PM Friday - BB home vs St Charles - 5:30 PM Saturday - WR Individual Districts @ CC-C Go Pirates!